Bookmark Caribation: Ctrl-D
Emergency phones
Dominican Republic
Ambulance
809-532 0000
Fire Brigade:
Santo Domingo 809-682 2000
Boca Chica 809-523 4626
Puerto Plata 809-586 2312
Police:
Santo Domingo 809-682 2151
Puerto Plata 809-586 2331
Emergency phones
Cuba
Ambulance
(Havana)
838 1185
838 2185
Fire Brigade:
105
Police:
106
Drug Unit:
103
Hotel (italiano parlato)
Appartamento a Boca Chica
villa-ocean-view.caribation.com
seaview.caribation.com
punta-bonita.caribation.com
playa-bonita.caribation.com
beachapartment.caribation.com
altos-de-chavon.caribation.com
oceanview.caribation.com
Villa with sea view
Lot 2200 m². Price US$ 299,500




D.R.

Dominican Republic
North Coast (Altantic Ocean)
House with ocean view and sea access: US$ 299,500

Property for sale in a clean, quiet, coastal environment

This 3-bedroom, 2-bathroom house is located directly at the sea with magnificent ocean views (check the video below) from the balcony. A servant bedroom is located on the ground floor. The house has has been built 15 years ago and certainly needs fresh paint. Surrounded by a natural, quiet environment: you will see ships passing in front of the house, not trucks.

Property title is accompanied by deslinde

The lot of 2200 m² is large enough to build stables or garages, if you wish. The property must be seen to appreciate.

Ocean view villa directly at sea shore (please check the map below)

Look at the ocean from master bedroom. The distance to sea: 50 meters.

Try before you buy!
Rent the house for one month (US$ 2,000) and if you decide to purchase we'll slash US$ 2,000 from the purchase price.

Titulo (Property title)
Deslinde (Verified boundaries)

The price to have a house at the sea is even less expensive if you pay with Euros or Swiss Francs:





299,500 USD

on 24.May.13 at 4:16am

231,203 EUR

289,813 CHF

309,950 CAD

198,441 GBP

Direct access to sea. Here you might construct a stone stairway to jump into the ocean. A boat can also be stationed in front of the house
Do you need more information?

Here the contact form.

Inquiry and Contact
| | |
| --- | --- |
| Ground floor: large live-in kitchen | Second bedroom in villa |
| | |
| --- | --- |
| Atlantic ocean, the balcony and the first floor bedroom | Sea view and the interior of the villa seen from ground floor |
| | | |
| --- | --- | --- |
| Right side | Green tree in Caribbean patio | Left side |
Small house for the guard or doorkeeper

Third bedroom in the house

Back side of the villa: quiet and natural. The neighborhood is called "Las Paredes de Isabela". A high-class location.
© 2001-2013 Caribation
This page powered by jQuery
C

a

r

i

b

a

t

i

o

n

sales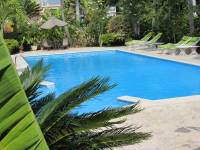 Affordable Hotel in Boca Chica
Apartment with Ocean View for rent in a beach area
Advertisement
IT courses in the Dom Rep
Half-day study, half-day beach
How about that?
December & January: only hotel bookings accepted (no apartments)